17 Mar

Product Comparison: Google Wallet vs. Apple Pay

Due to the overwhelming number of security breaches experienced in the last couple of years, merchants have been hard pressed to find alternative — and more secure — ways to accept payment. Traditionally, credit cards have provided a more secure form of payment than cash due to the option of cancellation and identity theft. Unfortunately, though, even when merchants have taken more extensive measures to protect their customers and the credit card information saved in their systems, hackers have still managed to steal the information of thousands, sometimes millions. Additionally, such extreme protection procedures have caused frustration amongst customers, making purchases far less convenient. In a fast-paced society, inconvenience can translate into the loss of countless sales of dollars.
Balancing Other Options Than Credit Cards
For years, such methods of payment as PayPal have become commonplace online, offering more secure transactions and the opportunity for customers to make purchases with a simple one-click ordering system. A number of these merchant services have attempted to build platforms for mobile payments, but their efforts have been unsuccessful due to their inconvenience — a limited number of brick-and-mortar retailers accept mobile payments, and customers had to have smartphones with applications containing all of their payment information.
Now two mobile payment systems have taken on the task to provide purchasing methods that are secure and convenient for both merchants and customers: Google Wallet and Apple Pay. As with their other products, Google and Apple payment systems have formed a competitive relationship that has spurred these companies on to improve their services and make them available on numerous operating systems.
Google Wallet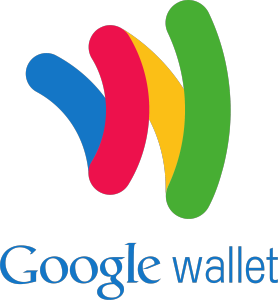 Google Wallet was created before Apple Pay, in 2011, and initially functioned as a way to store debit card, credit card, loyalty card, and gift card information on mobile devices. The idea was that when customers wanted to make a purchase, they could do so quickly and conveniently by tapping their phones on any terminal that accepted PayPass at checkout. The problem was that not many merchandisers accepted Google Wallet, even though the transaction was convenient, and Google Wallet didn't grow in popularity as anticipated. To remedy this, developers began adding a number of features to make the application more appealing to consumers and merchants alike, including the introduction of the physical Google Wallet Card that can be swiped as payment at myriad MasterCard or ATM locations. Especially when Apple introduced Apple Pay, in 2014, Google was driven to further improve upon its model.
Note the following features of Google Wallet:
Works on every mobile carrier
Can be used online to pay anyone with a Gmail address
Fraud protection covers 100% of verified, unauthorized Google Wallet transactions within the United States
Advanced monitoring system screens for fraud 24 hours a day
Application can be canceled from your online account
Uses a PIN to unlock the app, send money, or withdraw money from ATMs
Has a payment tracking system
All financial information is encrypted and stored on Google servers
Presence of a "Buy with Google" button at an online checkout indicates ability to use Google Wallet
Automatically uses credit or debit card that you set as default
Works with a number of popular retailers
Monies can be received and spent instantly and without a fee
Physical Cards can be used at participating locations
Provides merchants with 2-click checkout services
Merchants can offer loyalty program through Google Wallet, which sends subscribed customers updates and notifications
Gift cards can be added to Google Wallet
Does not charge merchants additional fees because payments are processed through existing merchant services infrastructure
Apple Pay
Apple Pay came onto the market late in 2014 and has since made a big splash amongst both merchants and consumers. For years, Apple devices have come with the application Passbook, which stores mobile payments and loyalty cards. Apple Pay automatically works in conjunction with Passbook and was built to be the central hub for all purchases that iPhone users make, both online and offline. At the time of its launch, Apple already had hundreds of thousands of participating vendors, and within the first three days of launching, more than a million credit cards were registered on Apple Pay — these figures added up to Apple Pay's immediate dominance in the mobile payment system.
Note the following features of Apple Pay:
Can use Apple Pay to pay for in-app purchases
Encrypts each credit and debit card with a unique encrypted Device Account Number to process payments
Doesn't store any purchase information or transactions — information is confidentially kept between vendor and customer
Can disable or wipe phone remotely with Find My iPhone app, if the phone is lost
Works with Visa, MasterCard, and American Express cards
Accepted at over 220,000 stores
To pay with an iPhone, customer just holds phone up to POS contactless system with finger on the phone's Touch ID sensor — no need to even turn on screen
Works on iPhone, Apple Watch, or iPad
Apple negotiated a smaller transaction for merchants
The bottom line is that security problems have led to better solutions. In light of ongoing security breaches and savvy hackers, Advocharge feels it's vital to inform our customers that security has taken on a new meaning in the field of credit card protection and transactions to protect end users, merchants and lenders.
Curious on how you can also accept Google Wallet or Apply Pay in your business? Contact AdvoCharge today at (844) 238-6669 with any questions.