04 Nov

Customer Spotlight: MassageTrack

Every now and then we like to put one of our customers in the spotlight and let them tell their story of how their business is progressing and what their experience is like with AdvoCharge.  We are pleased to introduce MassageTrack and will let their CEO, Eric Jeffrey tell their story – take it away, Eric!

After two years of working in my garage, I launched the massage tools I invented on Kickstarter and raised $72,000 from 850 backers. I thought I had my manufacturing lined up in China, but there were a lot of false starts anyway and it took me a year before I started shipping massage tools to my patient backers.
During that time I worked on setting up my website for e-commerce and decided to go with Woocommerce – I had been using WordPress for years so it was a natural choice. Next I needed a payment processor and I really wasn't looking forward to figuring out that piece of the puzzle.
In a previous business, I'd been through a couple processors and felt like I'd been taken advantage of. So I started asking around locally and heard from Steven Sashen, CEO of Xero Shoes that AdvoCharge had a really good program.
I was reassured when I spoke with AdvoCharge CEO, Mark Tracy because he showed me that I would have saved money with my prior business had I moved the processing to AdvoCharge. That gave me a lot of confidence and I signed the paperwork. Payment processing with AdvoCharge turned out to be simple and easy to set up and I felt well taken care of at each step.
It's a good thing it was so simple because I had so many other challenges going on, I really needed the easy win on the payment processing piece. Starting a business today is a lot easier than it was 15 years ago when I became an entrepreneur, because of great services like AdvoCharge, WooCommerce and ShippingEasy etc, but it just means we entrepreneurs can put more balls up in the air. It allows us to grow a business much further before we start getting help from contractors and employees.
I've been selling my deep tissue massage tools now on my website for five months and everything is running smoothly. It feels really good to know that I'm not overpaying and that if I have any problems, Mark is available.
The feedback from users has been great and I enjoy shipping out Massage Track packages all over the world. I've shipped to 34 countries so far including places as far away as Japan and Russia.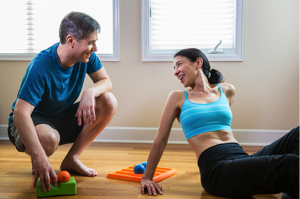 I also sell through Amazon but shipping internationally is something they don't do easily and will require a lot of time to get going. So I really appreciate what WooCommerce and AdvoCharge does for me.
As much as I love doing my own site development, I get tendonitis very quickly from typing and using the mouse – if that affects you too, there are a lot of things you can do to relieve tension in your forearms. If you're one of those people, please check out my guide for treating tendonitis. You'll find some very simple techniques for doing your own arm massage and adjusting your work environment which will make a big difference.
Kind regards,
Eric Jeffrey
Massage Track owner/inventor